Dallas blogger, Kate, of Lonestar Southern, began her blog as a simple college assignment, and it has now developed into an inspirational mega-blog about Southern styles and trends with Texas flair. Kate partnered with our Wisteria Dallas team in Inwood Village to design her new dining room nook, and the results are gorgeous! Read on to see how she themed her space with some of our favorite pieces.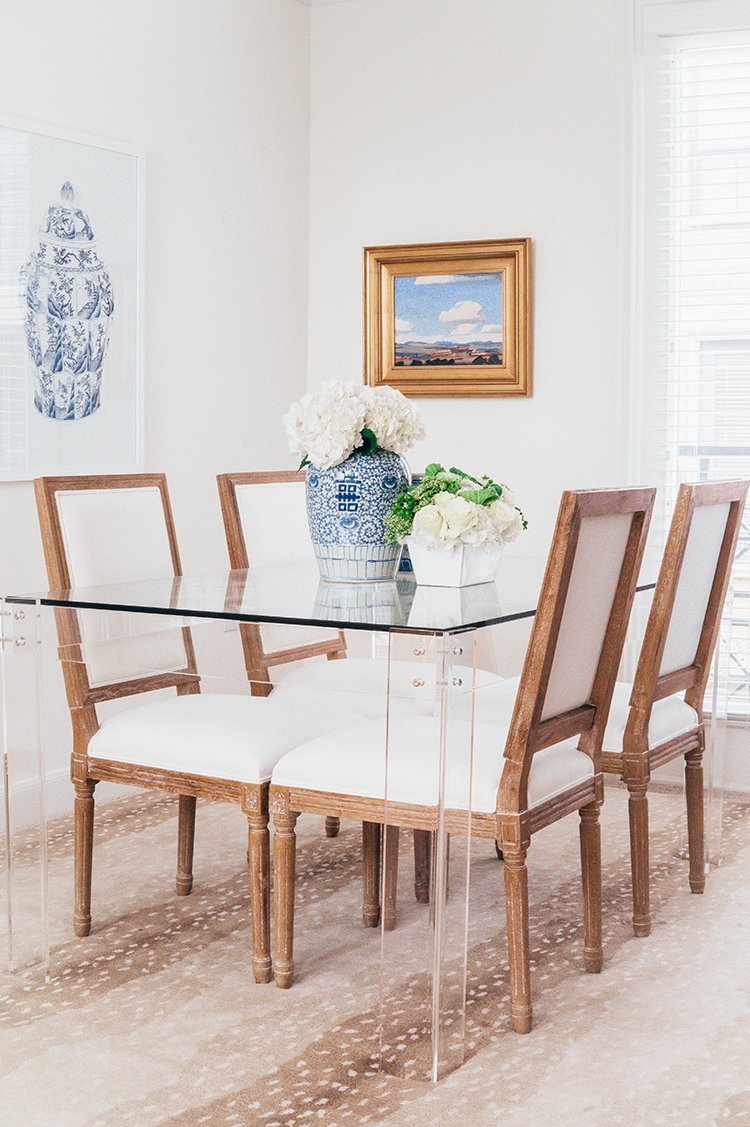 Kate loves how the Disappearing Dining Table opens up her room. "Since my dining area is on the smaller side, this see-through dining table was a perfect fit. Its translucent nature adds a modern feel while keeping the space from looking too cluttered and boxed off, while the classic chairs and beautiful ginger jar motifs add a sense of timelessness that I love," Kate said.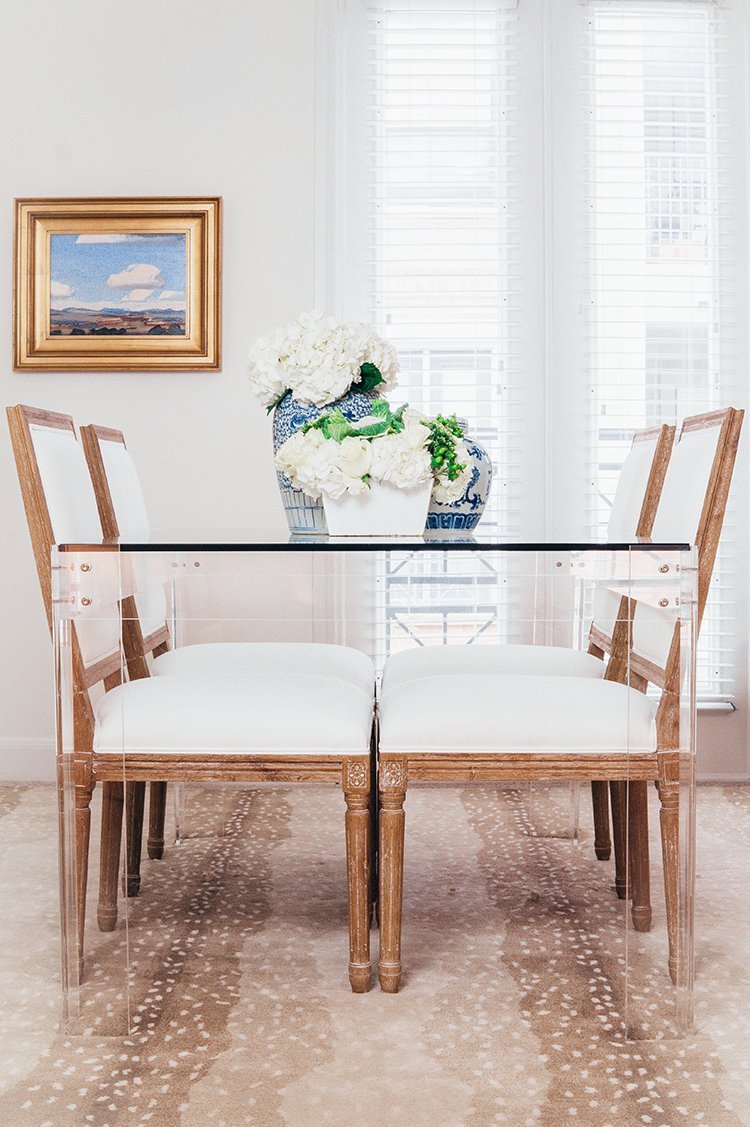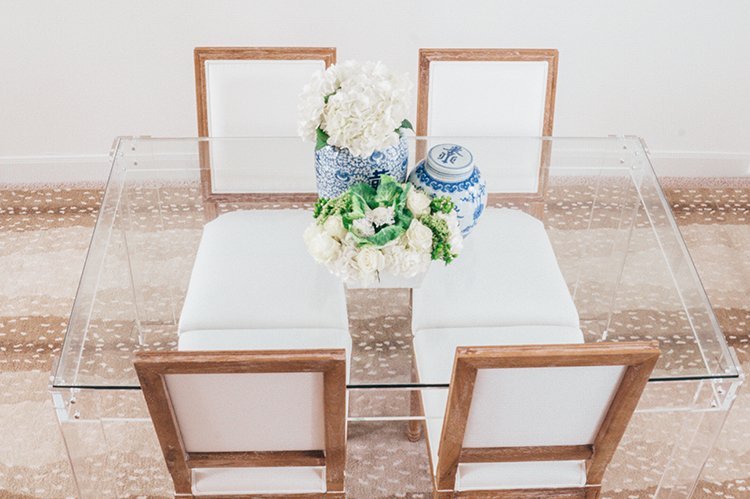 The room is pulled together with the Patterned Pot Wall Art and Elaborate Chinese Platter Wall Art pieces, completing the blue and white theme, which was inspired by the Wisteria Dallas Inwood Village store. "Seeing how gorgeously the Wisteria team wove those two shades throughout their space made an instant impression on me. Classic blue and white for the win!" Kate said.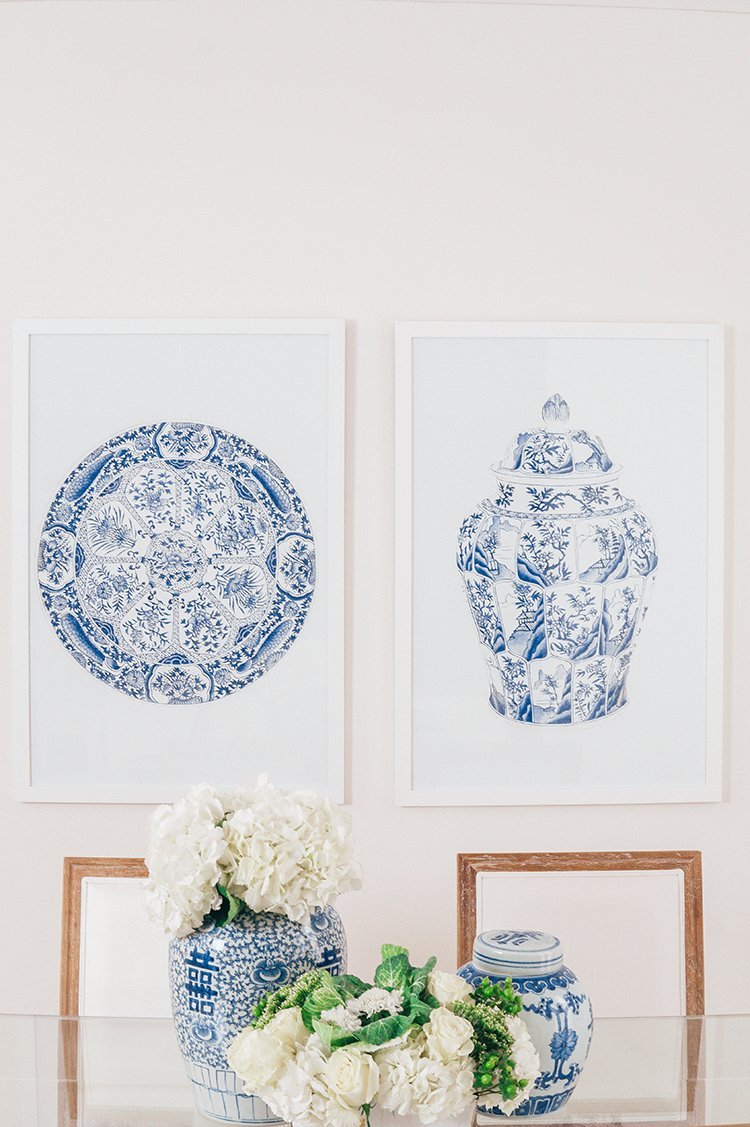 Our hand-painted Happiness Pots and Longevity Jar compose a stunning centerpiece that show off fresh spring blooms. These blue and white colors complement and refresh the pink theme that continues throughout the rest of Kate's apartment.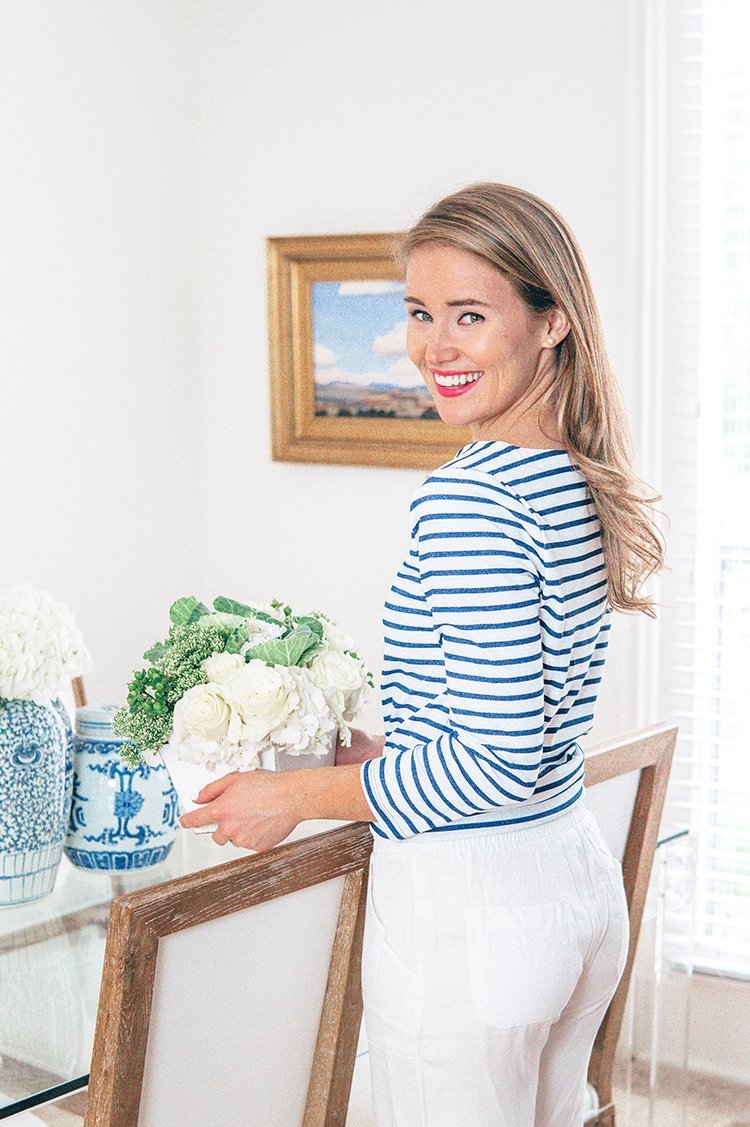 "As a Dallas native, my mom and I have always loved wandering into the Wisteria store on Lovers Lane. Even before I moved into a place of my own, it was always my favorite showroom to wander through and dream about how I would decorate one day! The store on Lovers Lane does a beautiful job displaying each piece in the most beautiful way, and you'll find the staff to be so accommodating and gracious," Kate said.
"Apart from the beautiful designs that Wisteria produces, I absolutely love the heart behind the brand. A quick click to the 'about' page will show you just what I mean… Wisteria seeks to support many nonprofits that are making important differences across the world."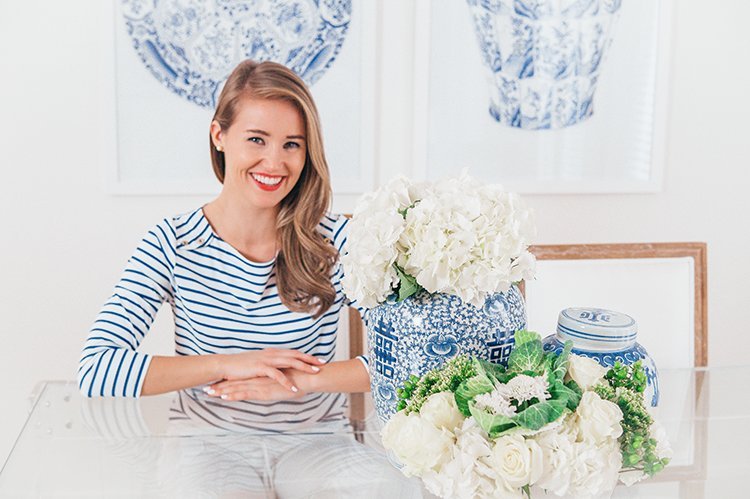 Kate also debuted a collection by Cabana Life, a brand that stands for something very important - sun safety. Cabana Life carries sun protective clothing that have become a staple for fashion from the sand to sidewalk. Their collections contain 50+ UPF clothing, including bathing suits, dresses, hats, cover-ups, tunics, shirts and pants for boys, girls and women. Even more incredible than their collection is the story behind this brand.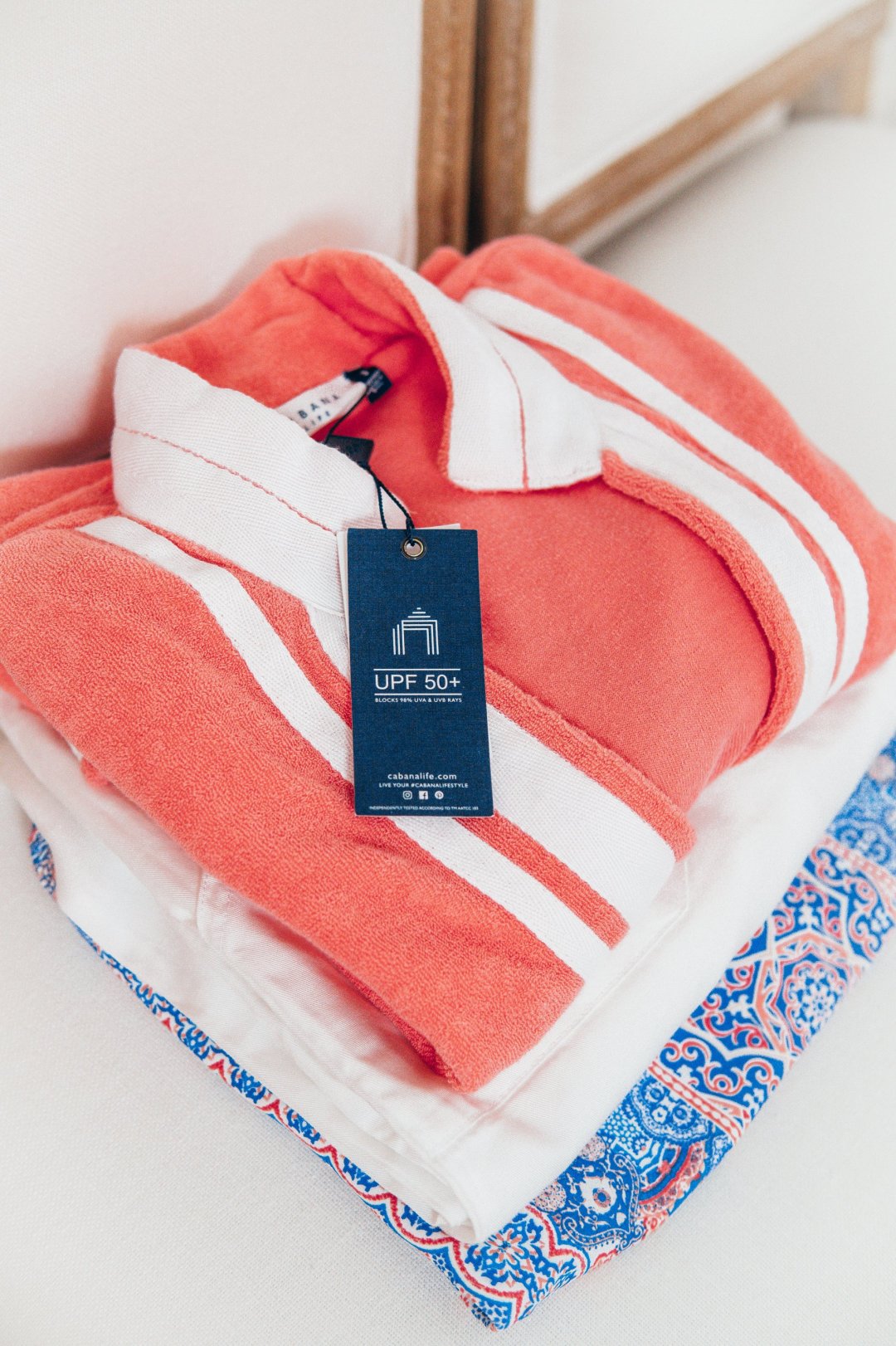 Melissa Papock, the founder of Cabana Life, found out she had cancer at the age of 26. "At the time of her melanoma diagnosis, she was your typical fashion-conscious New Yorker," Cabana Life said. "Having worked as a merchandising expert for top fashion and beauty magazines including Vogue, Vanity Fair, Allure, Marie Claire, Self, Seventeen and O (The Oprah Magazine), she thought she knew all the latest fashion trends. She was shocked when her dermatologist told her to wear 'sun protective clothing,' because lightweight clothing wasn't protecting her as much as she thought."
Alyssa Adams, former Director of Merchandising at Vanity Fair, learned about Melissa's story, which resonated with her due to her own family history of melanoma. The two entrepreneurs began a journey to start a new trend, making sun protection fashionable. At that moment, Cabana Life was born.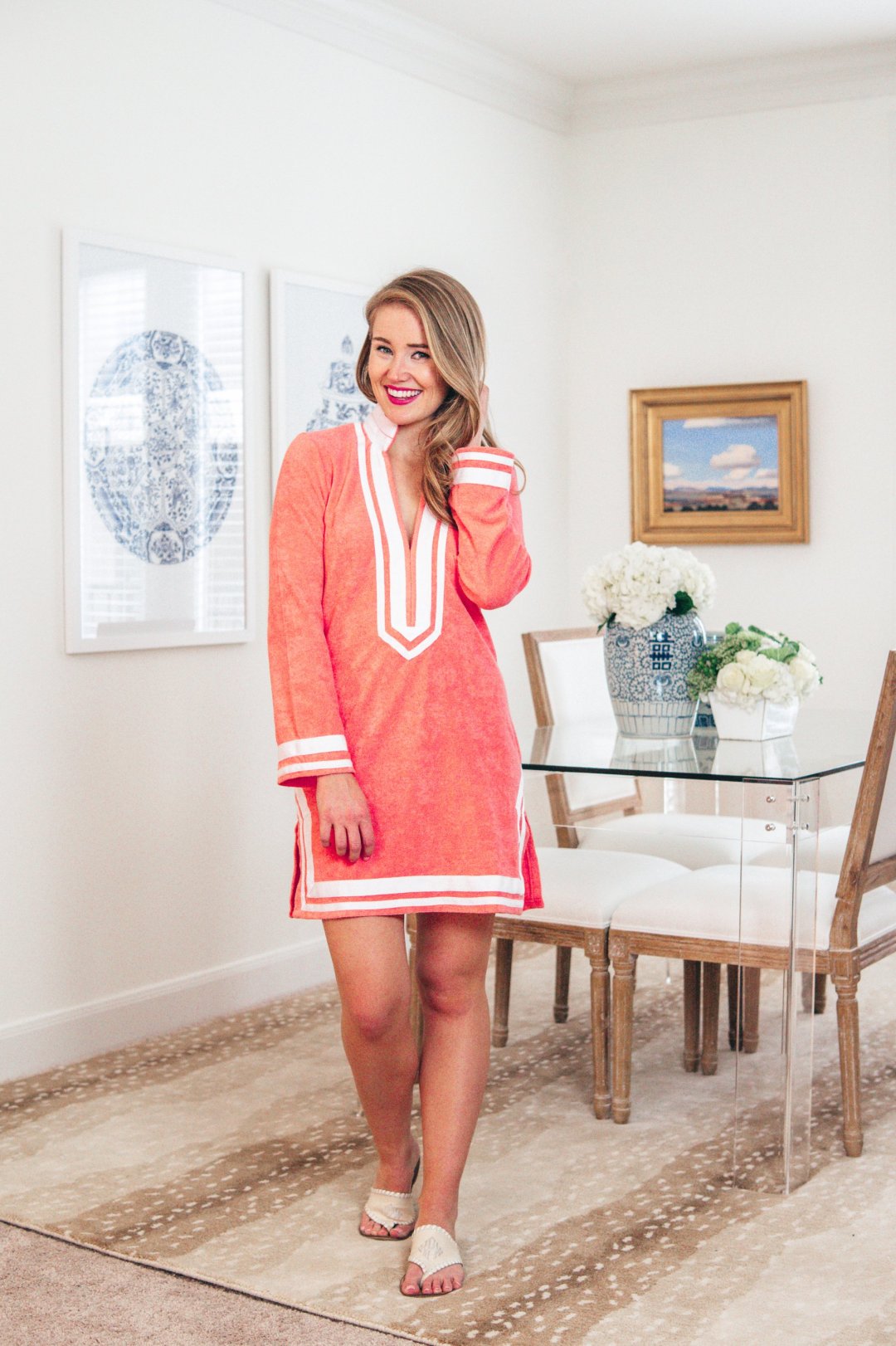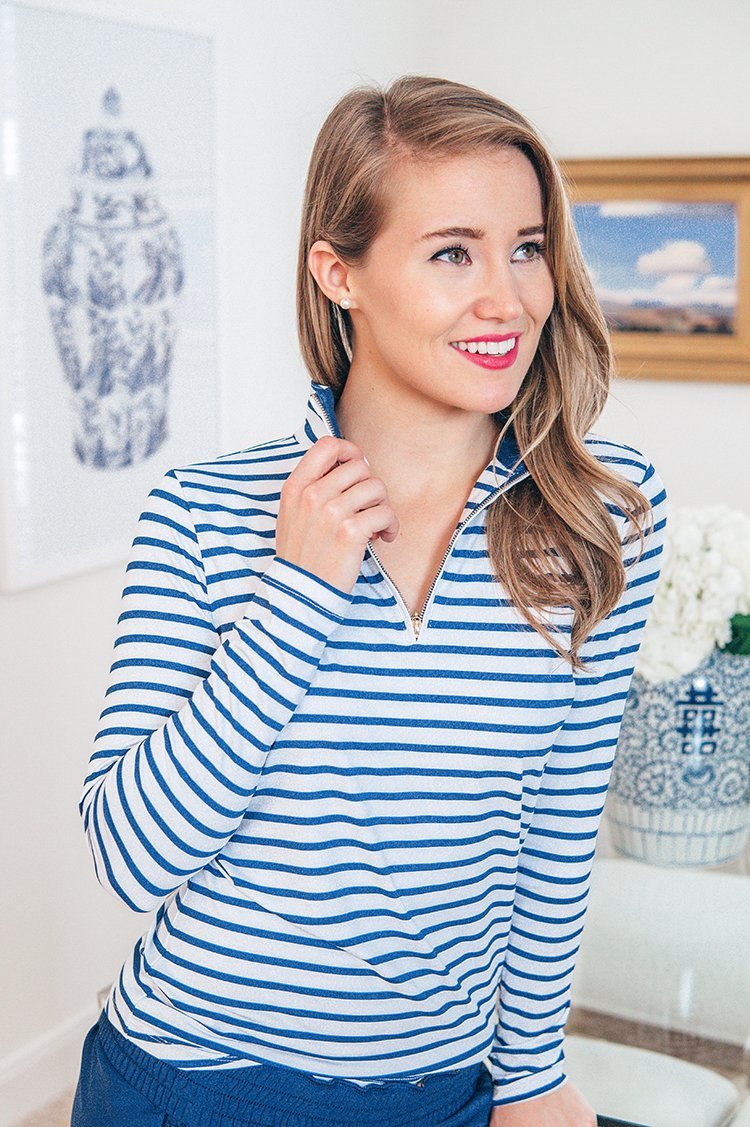 Kate's picks include pieces with classic stripes to various pops of colors.  "Cabana Life boasts a gorgeous collection of resort-ready wear to take you everywhere from the pool to dinner out on the town! The quality of these pieces is truly incredible… my jaw dropped when I opened my order! If 'sun protective clothing' scared you off, just take a look at the pieces I'm packing up for a sunny getaway this weekend!" she said.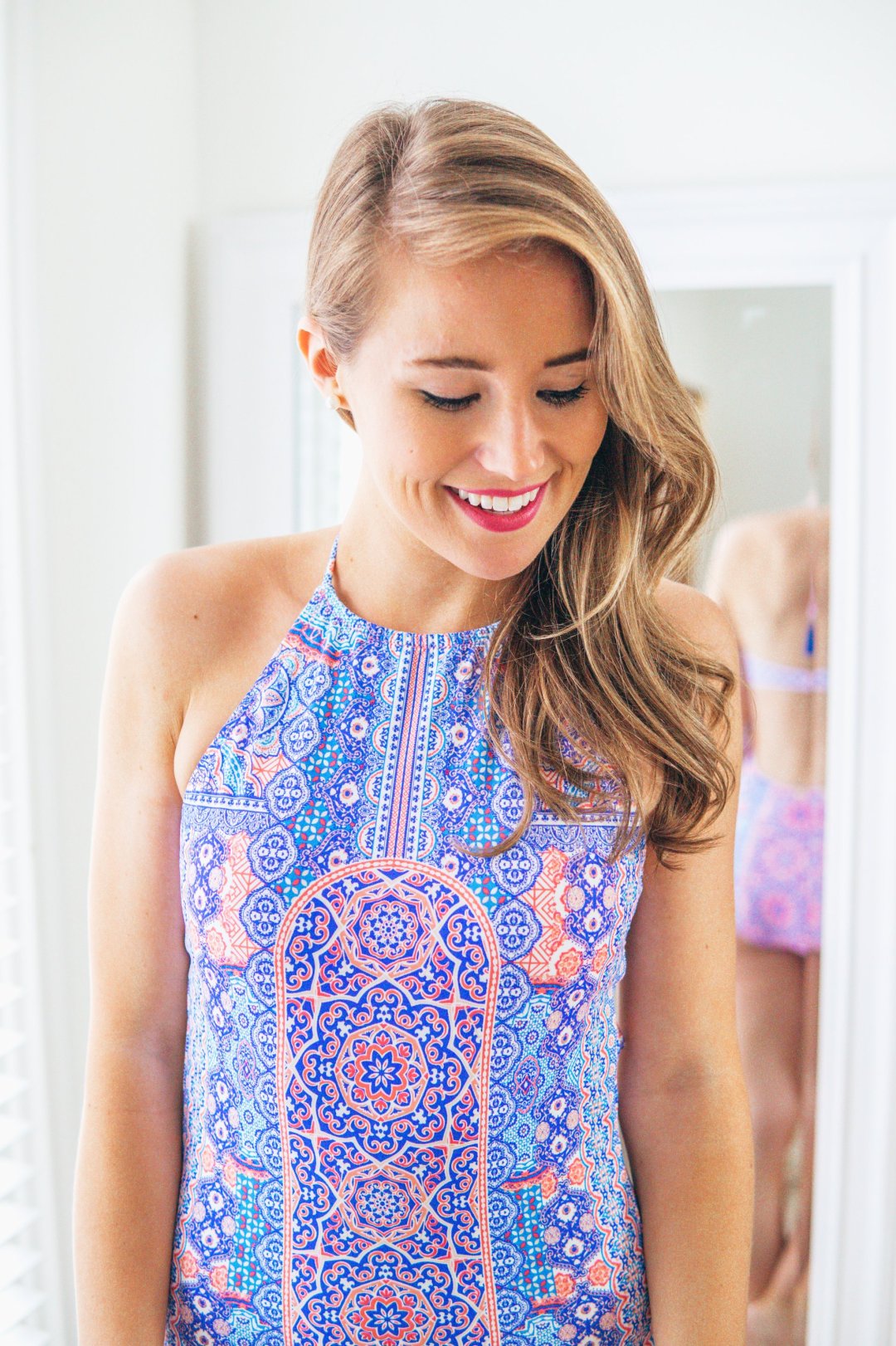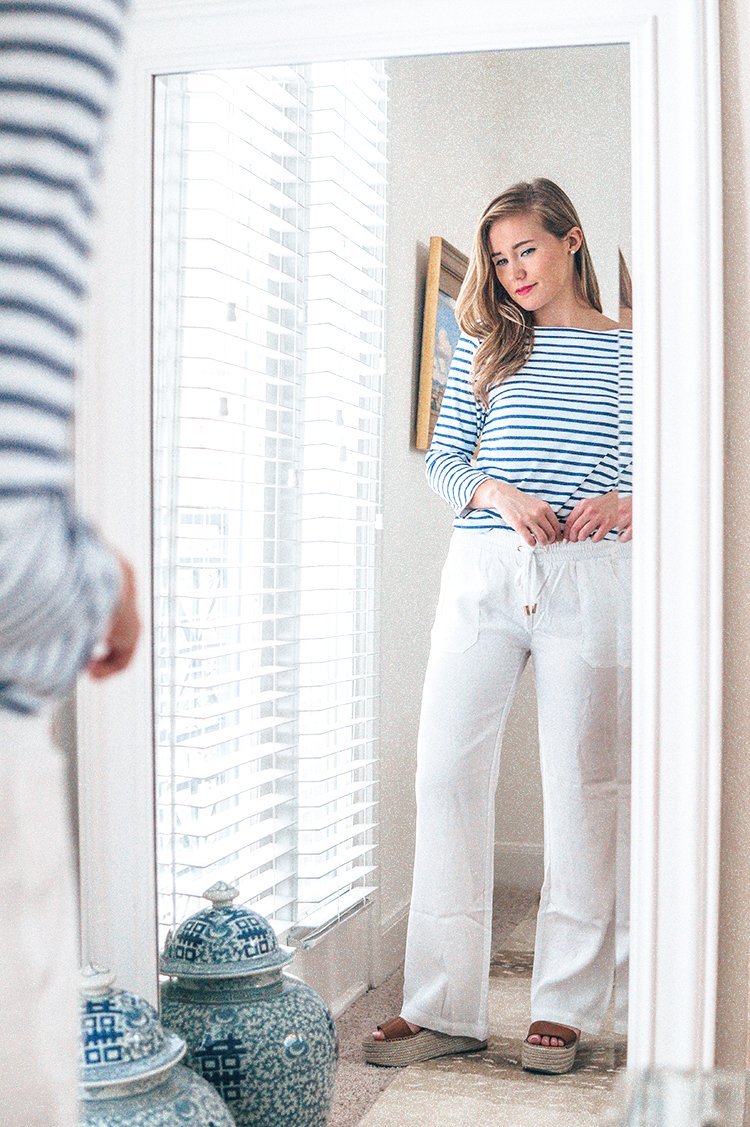 Head over to Lonestar Southern to read the full post about our collaboration with Kate and Cabana Life!